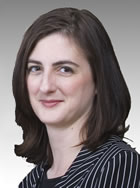 Beth Creighton has devoted her professional life to the defense of the rights of employees and the promotion of justice in the community. Her practice concentrates on the representation of individuals harmed by sexual harassment, discrimination, wrongful discharge, and by the violation of civil rights and other manifestations of police and governmental abuse.
Beth's undergraduate degree is in Women's Studies from the University of Toronto (1992) and her JD is from the University of Wisconsin (1996), renowned for its labor and employment law programs. When she moved to Oregon in 1996, she began working with Crispin & Associates practicing employment law. From 1997-1999, she represented clients in employment related claims while working for a firm that primarily did workers' compensation law. In 2000, she began working for Steenson, Schumann, Tewksbury, Later & Rose, PC, where her practice was employment law and civil rights litigation (both employment related and police misconduct). In July, 2010, she and her partner, Michael E. Rose, took over the firm and formed Creighton & Rose, PC.
Beth currently serve as one of the co-chairs of the employment section of the Oregon Trial Lawyers Association (OTLA) and is a member of OTLA's Board of Governors, as well as an active member of the education, amicus and legislative committees. She is also active in the National Employment Lawyers' Association (NELA), and, in 2013, was elected as the first member of the NELA Board of Directors from Oregon. She has lobbied in both Washington, D.C., and Salem for legislative changes that have given workers more rights and protections in the workplace. Beth continues to work tirelessly to enforce the rights of workers and others abused by the system and has been an indomitable advocate for change on both an individual and systemic level to benefit her clients.
Outside of the litigation arena, Beth is currently being trained by her teenage daughter to become more adept at conflict resolution.
| | |
| --- | --- |
| Admitted | 1996, Wisconsin; 1997, Oregon; 1999, U.S. District Court, District of Oregon; Ninth Circuit Court of Appeals |
| Law School | University of Wisconsin-Madison, J.D., 1996 |
| College | University of Toronto, B.A., 1992 |
| Professional Organizations | National Employment Lawyer's Association (Board of Directors, 2013 - present); Oregon Trial Lawyer's Association (Co Chair Employment Section, 2006 - present; Co Chair, Women's Caucus, 2004-2005; Education Committee 2007 - present; Membership Committee, 1998-2000) |
| Born | Buffalo, New York |